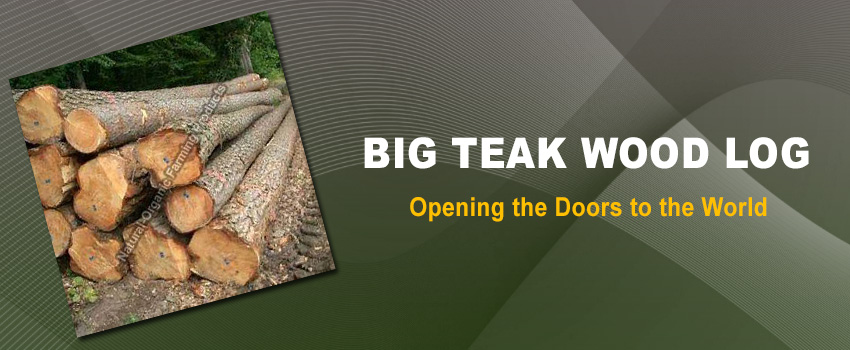 Teak wood is highly regarded in the fine woodworking community for its grace, toughness, and flexibility. Big teak wood logs are in frequent use among factories, artists, and craftspeople worldwide, which makes sense. From the deep forests, these enormous logs come from the expert hands who turn them into beautiful furniture and artwork, each one has a special tale to tell.



The Teak Wood's Organic Beauty
Tectona grandis, the botanical name for teak wood, is unique to South and Southeast Asia, which includes nations like India, Indonesia, and Myanmar. Famous for its gorgeous golden-brown colour, this timber eventually turns silvery grey, adding to its allure. It is widely appreciated for outdoor furniture and boat building because of its natural oils and high silica content.



The Big Teak Wood Log Manufacturers
Big Teak Wood Logs Manufacturers, who are frequently found in areas with a plentiful supply of teak wood, are essential to the teak wood supply chain. They procure, prepare, and supply the teak logs to different businesses.



Ecological Methods
The teak wood business has turned its attention to more environmentally friendly methods in recent years. Big Teak Wood Logs Manufacturers are pushing for more ethical logging practices and replanting initiatives.


They guarantee the sustainability of teak wood supplies for future generations by upholding these practices. To practise sustainable teak logging, older trees are carefully cut down while younger ones are allowed to develop and take their place.



Record-keeping and Handling
Harvesting teak wood is a more complicated procedure than it first appears. It needs sophisticated technology, expert labour, and a thorough knowledge of the characteristics of wood. The mature teak trees are picked with care, then they are chopped and taken to sawmills, where the real work starts.


The big teak wood logs are meticulously carved into planks and boards at the sawmill. At this point, the distinctive teak wood's grains, texture, and colour become visible. The providers go to considerable lengths to optimise every log's usage, reducing waste and guaranteeing sustainability.



Worldwide Needs
Big teak wood logs may be used for a variety of purposes. They are employed in the building of boats and ships as well as in the creation of flooring, decking and furniture. Teak is a fantastic material for both indoor and outdoor use because of its exceptional blend of beauty and toughness. It is perfect for maritime applications because of its resilience to water and insects.


Teak wood has been more and more in demand worldwide as more people come to understand its worth. Big teak wood log producers thus never stop looking into new markets and broadening their horizons. They serve the demands of both households and businesses by frequently exporting their goods to nations where teak wood is in great demand.



Establishing Artisanship
These companies supply teak wood to artisans and craftspeople worldwide, and it is turned into incredible artwork. The natural beauty and durability of wood make it a perfect medium for creation. Teak wood is quite versatile. It may be used to create furniture with intricate carvings or sleek, modern designs.


To summarize, makers of big teak wood logs are crucial for the teak wood area since they ensure the worldwide inventory of this brilliant wood. Their devotion to harmless ecosystem strategies, along with teak wood's inborn excellence and sturdiness, make it popular as a material for various undertakings.


Teak wood gives a getting-through arrangement that is hard to beat, whether you're looking for a household item or an outside deck.