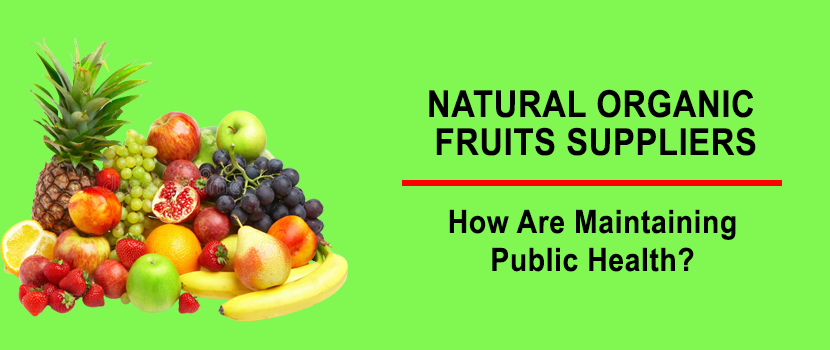 Some people believe that eating natural organic fruit is better for them than regular fruit. But some even believe that it even tastes better. Organic fruits are beneficial in many ways. They are grown using organic gardening and farming methods. The processes are often different from farmer to farmer. However, one thing consistent with these fresh farm fruits is that farmers don't use pesticides or other chemicals. They use natural products and methods to upgrade their yield.
Natural Organic Fruit Health Benefits
Fruits are usually known to be good for everyone, even if it are inorganic or regular ones. However, growing organic natural fruits strengthens the plant's natural defenses. If chemical pesticides are sprayed, it is no need to develop these natural defense mechanisms against disease and insects. These natural defenses sum up to boost the nutritional value of your body.
Organic Fruit is Chemical Free
As the best feature of natural organic fruits is produced without chemicals, these become the most beneficial. There is disagreement surrounding using chemicals and pesticides to improve the yield in farming and your overall health. Some people believe chemical fertilizers harm the body and others believe that the effects are slight. Either way, organic fruit is free of these chemicals, a non-issue.
Purchasing Organic Fruit
A few years back, finding high-quality organic products like fruits and vegetables was difficult. Now, there are markets and natural organic fruit suppliers all over the country who specialize in fetching organic fruit from farms and delivering them to the public. Mainstream supermarkets are also starting to include organic fruit in their produce sections. Do not get scared or upset if you see a splotch or slight blemish on the surface of your favorite tasty and organic fruit skin. This means that the farmer did not use chemicals to help prevent them from forming. The blemishes on any of the organic fruits are harmless.
Growing Organic Fruit
Some people prefer growing organic fruits then buying one. They can also grow their own organic fruit with simple guidance. Make sure you research proper planting methods and how to care for them. Organic fruit producers and help you in this regard. They can guide you on maintaining an organic compost pile, using special fertilizers, weeding, and testing the soil to ensure it is at the proper PH level.
Organic fruit is better for everyone's body, health, wellness, and the environment. Farmers use eco-friendly and good methods for the earth, and the lack of chemicals in the organic fruit benefits your body.
How to get high-quality natural organic fruits?
Nowadays, get the best fruits from natural organic fruit suppliers online. These days, suppliers are following stringent parameters for maintaining quality standards. They procure a wider range of fruits and supply them at a reasonable price. They have all the newest technologies and machines to meet the needs of our customers. In addition, they have a quality manager to handle every packaging to retain its freshness till delivery.